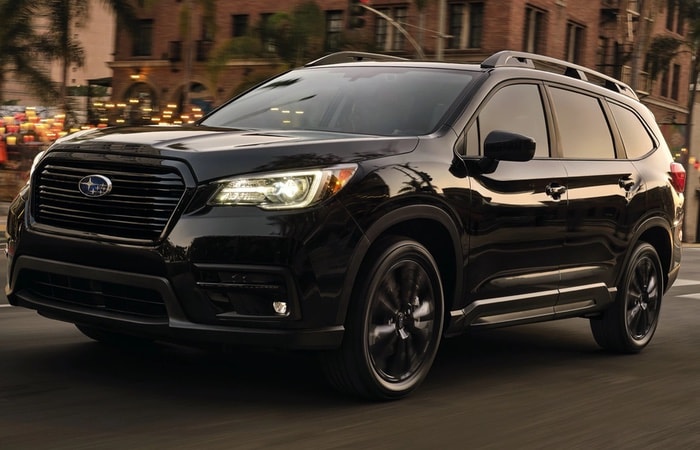 Subaru's entry into the three-row SUV game, the Ascent, has some great new features for the 2022 model year. Each trim level of this mid-size crossover is equipped with a suite of safety features, ensuring your confidence on the road. Let's take a look at what Subaru has in store for us for their new 2022 Subaru Ascent.
The Ascent comes equipped with Subaru's trademark all-wheel drive system, making it perfect for road trips in any season. Under the hood is a turbocharged 2.5-liter four-cylinder that is paired with a CVT and produces 260-horsepower. The Ascent has a comfortable ride, absorbing the bumps from the road well, giving your passengers a great experience while riding in this large crossover. Subaru wants the Ascent to be the perfect family vehicle, which means they needed to give the Ascent good gas mileage, which they've successfully executed. The Ascent will earn 21 mpg in the city and 27 mpg on the highway.
The interior of the 2022 Ascent feels both comfortable and practical, having all the hallmarks to a family SUV. Family favorite features such as heated rear seats, power-adjustable passenger seat, and premium leather-trimmed upholstery are available, giving the Ascent a high quality feel. The Ascent can hold up to eight people inside, and has a sizeable amount of cargo space, 17.8 ft³ with the seats up and 86.5 ft³ when the seats are folded down. Subaru has added some clever cargo features as well, such as velco straps that hold up the load floor, giving you added room.
As for technology, Subaru offers a 6.5-inch infotainment screen on the base trim, and an 8.0-inch one on all the other models. The infotainment system will have favorite features such as Apple CarPlay, Android Auto, and a Wi-Fi hotspot. The current Ascent is an IIHS Top Safety Pick+, and we expect this to remain the same in 2022. Standard safety tech on the 2022 Ascent will include adaptive cruise control, lane centering, automatic emergency braking, and more. Blind-spot warning, lane-change assist, and rear cross-traffic alert will be available as options.
Subaru hasn't announced when the 2022 Ascent will release, although we expect a late summer to early fall of 2021 release. The new Ascent will start at around $33,240. Stay tuned for more regarding Subaru's new three-row crossover, the 2022 Ascent.