The 2021 Subaru Love Promise Community Commitment Award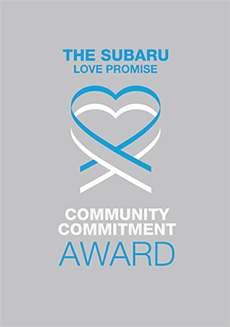 We've been nationally recognized for our dedication to our community and the Subaru Love Promise.
We're honored to receive the 2021 Subaru Love Promise Community Commitment Award. This award nationally recognizes Subaru retailers who are making the world a better place while demonstrating an outstanding commitment to supporting passions and causes in local communities. These efforts are focused in important areas such as the environment, community, health, education, and pets.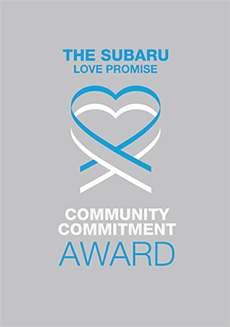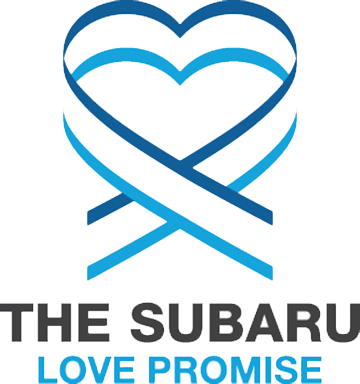 What is the Subaru Love Promise?
Subaru and our retailers believe in making the world a better place and the Subaru Love Promise is our vision of respecting all people. This is our commitment to show love and respect to our customers and to work to make a positive impact in the world.
How is Briggs Subaru of Topeka dedicated locally to the Love Promise?
Our Love Promise can be seen in various partnerships with local charities and non-profits. We're grateful for the opportunity, not only to be a part of our community, but to serve it as well. We donate 10% of every oil change to the Helping Hands Humane Society. Our customers help us help those who can't help themselves.
Helping Hands Humane Society
Love Promise Stories from Briggs Subaru of Topeka
Subaru and Briggs Subaru of Topeka believe in making a positive impact on the communities in which we live and work. We uphold that belief through our Love Promise Community Commitment. Every month, we select inspiring stories from customers and partners from around our area who strive to support our collective commitment and feature them here
Wynonna finds a home! - Grace C
So far in 2021, Helping Hands Humane Society has helped 4,700 pets! We couldn't have done it without the help of Briggs Subaru. Briggs has not only sponsored adoption fees all year long to help us find homes for these animals and help families be able to obtain the pet-loving life they dream of! One of our favorite stories happened in October of 2021. As part of our partnership, Briggs Subaru hosted our organization to come out and celebrate our shared love of animals. Mr. Rubbo had provided refreshments and we brought out the cute snuggles! We decided to take a little docked-eared bully mix named Wynonna who had come in as a stray out because we really want to educate people that an animal's appearance doesn't determine their temperament, we want people to know that shelter animals have a lot of love to give, despite whatever background they came from. While at the event, Wynonna was an absolute STAR and stole the hearts of all who were there. She also managed to get herself adopted by a Briggs staff at the event which couldn't have made us happier! We are so grateful for all that Briggs Subaru does to support our mission and their dedication to put pets in homes.
---
Weather Doesn't Matter When Delivering Our Meals - Diane Y
Weather doesn't matter when it comes to delivering meals to our home bound patrons. Thanks to our great volunteers today for braving these frigid cold temps and snow. You are so appreciated!! Thank you again, Subaru of America, Inc. and Meals on Wheels America for this wonderful vehicle that always gets us where we need to go.
---
Covering Adoption Fees During a Global Pandemic - Emi G
Two days before the Safer at Home order in March of 2020 went into place in Shawnee County, Helping Hands Humane Society employees were scrambling to find homes in the community for adoptable dogs. "We knew we wouldn't be able to hold regular adoptions for quite some time, and more than anything we wanted the dogs on the adoption floor to be in loving homes ASAP," said Grace Clinton, Director of Business Development and Special Events. HHHS's Foster Coordinator, Jenna Petesch, devised a plan to quickly recruit fosters and place dogs, cats, and even adoptable rats, in their homes for the duration of Safer at Home. This would allow staff ability to take care of the pets who were waiting final steps to be available for adoption and limit the number of persons in the building. The Topeka community stepped up in a huge way and by the end of the day before Safer at Home, the adoptable dog room was empty because they were all settled comfortably into foster homes! Briggs Subaru didn't want there to be any barriers to adoption for these amazing families who had offered to foster; if any fosters decided they wanted to turn temporary into forever, Briggs Subaru generously covered the adoption fees. From three special rats including an albino rat named Angel who is very affectionate and brings joy to her family, to a loveable and fiesty one-eyed Chihuahua mix, Jerry, who is missing half of his bottom jaw so his tongue always sticks out, to a biiiig butter-stealing, toy-loving chocolate Lab mix named Badger, over 70 pets found permanent homes from the COVID-19 Emergency Foster Project adoptions in March 2020 sponsored by Briggs Subaru of Topeka!
---
October 2020 Fall Event with HHHS - Grace C
Helping Hands Humane Society is extraordinarily grateful for our partnership with Briggs Subaru here in Topeka, KS. In the fall of 2020, we were able to partner together to reduce adoption fees for the entire month of October to help us maintain our shelter numbers, as well as provide affordable adoption rates for families while continuing to cover the cost of care for the animals sheltered here. Staff and volunteers kicked off the event at Briggs Subaru's location on October 1st, 2020 with adoptable animals, including a little puppy with a broken leg named Mr. Tony Rubbo! This event kicked off the month long campaign, and while we were limited in hosting large-scale events due to COVID-19, we were so eager and excited to get to show our solidarity as two businesses who love animals, and show our biggest group of supporters just how much Subaru loves pets! With these needed funds, we were able to continue combatting pet overpopulation in our community by covering sterilization costs of adoptable animals to get them healthy and into their new homes while preventing our shelter from getting filled up again. We provide so much love and care to the more than 6,000 animals housed each year here at HHHS and we couldn't do it without supporters such as Briggs Subaru!
---
Helping Hands Humane Society's Gratitude - Grace C
Each year, Helping Hands Humane Society Inc. admits more than 6,000 animals. In 2019, we took in and cared for just over 6,700 pets. The numbers can be staggering at times, and the work is never done. We believe in our life-saving mission and we believe that our community will support us. We are so grateful to have had the support of Subaru of America and Briggs Subaru of Topeka aid us in impacting the lives of these animals. The warmer months of this last winter (2019-2020) didn't slow what we in the shelter world refer to as "kitten season" as much as we would have hoped, so litters of kittens continued arriving until as late as November 2019 and as early as March of 2020. These baby animals need additional care, such as bottle feeding and specialized monitoring, in order to increase their chance of survival. This work would not have been possible without the generosity of Subaru of America. We are so grateful to have been selected as a charity partner for this event. This generous funding not only sustains the work that we do here at the local animal shelter in Topeka, KS, but this year turned out to be an unpredictable and uncertain time for us. The generous donation from the Share the Love event came in right at the start of the COVID-19 pandemic, and it was blessing and salvation for our work. The animals didn't have the option of staying home, and our staff didn't either. Mr. Rubbo with Briggs Subaru of Topeka is dedicated to this cause and contacted us to ensure that we had the support that was needed to continue, despite this unprecedented situation. We were able to provide care for more than 300 new animals that arrived during the pandemic, thanks to the donation from the Share the Love event!
---
Subaru Loves Pets Donation Drop Off - Grace C
THANK YOU to Briggs Subaru of Topeka for some fabulous donations from Subaru Loves Pets month (October) and for their ongoing Share the Love campaign (through January 2nd). https://www.briggssubarutopeka.com/share-the-love.htm With every new vehicle purchased/leased, Subaru will donate $250 to the charity of your choice. In addition to that, Briggs Subaru of Topeka is donating $50 to HHHS for EVERY sold/leased vehicle from 11/14/19-1/2/20. We are so lucky to have support from community organizations who believe in our mission. #hhhstopeka #giveback
---
More than a meal. - Diane Y
Our volunteers bring smiles to many faces every day! #MORETHANAMEAL Meals on Wheels America Subaru of America, Inc.
---
Subaru Loves to Care Blanket Delivery - Megan C
On Friday, June 7th Leukemia & Lymphoma Staff member Megan Clemens met Bryan Schuster and two of his local sales team members at The Cotton O'Neil Cancer Center at Stormont Vail. Abby, Stormont Vail Pediatric Nurse and AJ Patterson, Stormont Vail Community Relations, helped us unload two Subaru Outbacks filled with boxes of blankets and craft kits to share with patients. Megan shared with the group more about Subaru's support nationally of LLS through not only the Subaru Loves to Care deliveries but Subaru CEO Tom Doll's commitment to raise more than $1M for LLS this summer. While we were unable to hand deliver the blankets and kits this year, we know that local patients will feel the love from Subaru & LLS in the moment they need it most.
---
Volunteers are the heart of our program - Diane Y
We are so thankful to all of our volunteers who deliver Meals On Wheels for us everyday. Whether 100 degree temps, rain or snow they are there for us! These two featured here are Jim Henry and Rita Olberding both of Seneca. Rita has been delivering meals for our center for over 25 years. She enjoys getting to see all the patrons on a regular basis. Within those years of helping us she endured some pretty brutal cancer treatment. On her bad days when she couldn't fend for herself she had MOW brought to her home. It was then she realized just how important this program is to our community. Jim Henry has been with us for over 5 years. He drives our food over to the Sabetha Nutrition Site a couple days a week and also delivers MOW's as well. He is one of those volunteers who will do anything you need whenever we need it. We are so lucky to have them on our team!Thanks again to our wonderful and dedicated volunteers and our friends at Subaru for making this all possible! — at Meals on Wheels Nemaha County.
---
Meals on Wheels Nemaha County Celebrates 35 years - Diane Y
Every day for over 35 years Nemaha County Public Transit and Meals on Wheels has been serving local residents. Employees and volunteers ensure senior residents get to medical appointments, have a warm healthy meal and enjoy social activities. Nemaha County Transit and Meals on Wheels takes great pride in helping to keep our seniors healthy and happy. Last year alone, Nemaha County Public Transit and Meals on Wheels served over 180 residents. Without the support of dedicated staff and volunteers many essential needs would simply go unmet.Since joining the Nemaha County Public Transit and Meals on Wheels team in 2013, Executive Director Diane Yunghans has played an important role in helping the organization expand services for our residents. As Executive Director, Diane has helped increase ridership and revenue by streamlining technology and cutting costs. Diane and her agency were awarded the Transit Service of the Year in 2016 for creating an iPad system for reporting that has since been implemented across the state of Kansas. In 2017 Diane wrote a grant allowing Meals on Wheels to receive a 2018 Subaru Outback free of charge as part of the Subaru of America's 50 Cars for Fifty Years. Most recently, Diane received $390,000 through the 5339 Bus and Bus Facilities Grant program from the Kansas Department of Transportation. These funds will be used to help fund a new building to help support the expansion of Nemaha County Public Transit and Meals on Wheels throughout Nemaha County.Diane says "These are exciting times for Nemaha County Public Transit and Meals on Wheels. These funds will allow us to expand services from the Seneca and Sabetha areas to rural communities throughout Nemaha County. We know the need is great, now we will have the facility and funding to make it happen."Alane Bloom, Dietary Manager at the Senior Center for the past 20 years says "Diane has done a tremendous job in helping grow the number of program participants in our program. In a short time, she has helped us grow the Meals on Wheels Seneca and the Sabetha congregate meal site to 180 participants. She has written more grants than anyone in the past 20 years, allowing us to help more people than ever before. She has been a wonderful addition to the entire community." Alane expressed continued excitement for the future. She sees continued growth for the future as Diane and the team help expand services countywide.
---