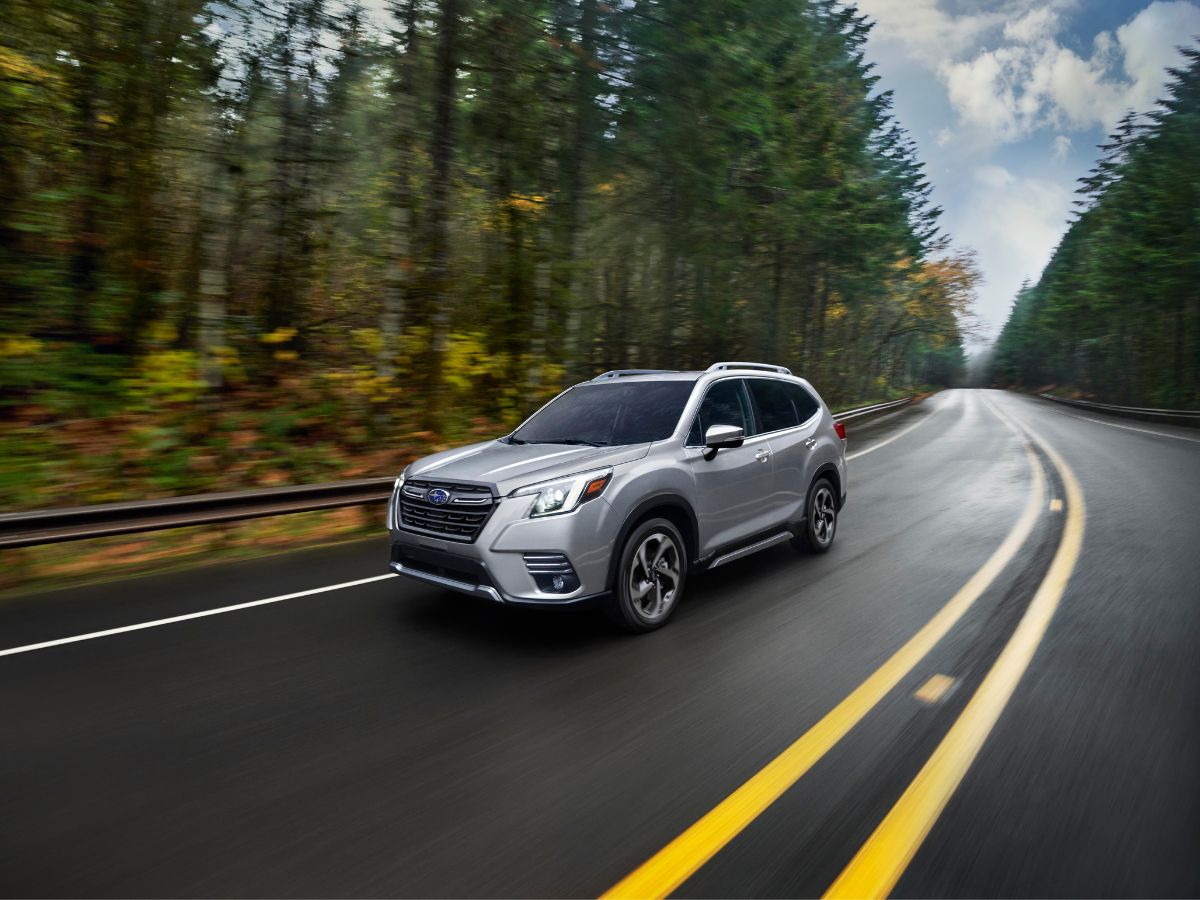 Subaru Forester Service in Topeka, KS
Regular vehicle maintenance is essential in ensuring that your Subaru remains efficient and healthy for longer. Technicians well-versed with Subaru Forester service in Topeka can help take care of routine maintenance and repairs to keep your Subaru in shape. At Briggs Subaru of Topeka, we have the expertise to handle all your vehicle's maintenance needs.
Schedule Service
Subaru Forester Regular Service and Maintenance
For the best Subaru Forester maintenance, Briggs Subaru of Topeka can handle everything, including brake services, transmission services, oil changes, and tire sales and services. Our certified mechanics only use OEM parts and accessories to provide top-quality maintenance for your Subaru. Drivers in Manhattan and Lawrence, KS can count on us to diagnose any issues on your Subaru and provide prompt solutions.
At 7,500 miles, bring your car in for engine oil and oil filter replacement as well as tire rotations. After every 15,000 miles, our certified technicians can perform an emissions tune-up to maintain your car's efficiency. For your brake fluid, air filter, and PVC valve replacements, visit our state-of-the-art service center every 30,000 miles.
The Importance of Automotive Maintenance
Our professional transmission repairs ensure that your transmission system powers the other car parts with ease. Let us remove contaminated fluid and provide proper lubrication. Regular transmission services ensure that you enjoy smoother shifting and a comfortable ride. We also perform frequent oil changes that prevent wear on engine parts while keeping your boxer engine cool.
We offer tire repair and replacement services to ensure that your Forester stands the test of time. Our tire rotation and balancing services help to create a smoother ride and ensure that your tires last longer as they wear evenly. With our Subaru Forester services, you can save significantly in the long run.
Dangers of Skipping Subaru Forester Service
Subaru batteries need regular testing and maintenance services to reduce the risk of corrosion and leaking problems. Driving on a damaged battery can result in unplanned breakdowns that increase servicing costs.
Thin brake pads expose you to the risk of accidents every time you hit the road. Count on us to inspect your brake pads regularly and alert you when they need replacement. Our expert technicians can also review your lines/hoses and replace your brake fluid, ensuring that your braking system remains efficient.
Why Choose Briggs Subaru of Topeka
Our factory-trained technicians understand what your Subaru needs to provide a smooth ride through the streets of Topeka, KS. With genuine OEM Subaru parts and accessories, we take pride in restoring your vehicle to factory standards. Let us keep your Subaru's quality and safety in check with the complimentary multi-point inspection whenever you bring your car for service. Grab a cup of coffee and beverages in our comfortable waiting area as we get your Subaru back in shape.
Choose Briggs Subaru of Topeka For Your Next Service or Repair
Briggs Subaru of Topeka is here to help drivers receive certified Subaru services at the most competitive prices in the region. Our certified technicians and genuine OEM parts take care of the former, while our monthly service specials and everyday maintenance pricing take care of the latter. When you are in need of a service, please visit our online scheduling page for easy and convenient scheduling, available 24 hours a day.
Community Involved Dealership
Factory-Trained Technicians
Comfortable Waiting Area with Magazines, and TV
Coffee & Beverages
State-of-the-Art Facility